Content
I.C.T XC-3200 | Automatic Electronic X ray Component Reel Counter
❙

Introdution of

X ray Component Reel Counter

I.C.T XC-3200 X-Ray
Component Reel Counter
I.C.T X-Ray SMD component counter uses X-ray imaging technology, applies AI algorithm to detect production materials, obtains image information for fast counting; directly links with factory ERP/MES system, and has a wide range of applications in warehouse management.
❙ Features of X-Ray Component Reel Counter
1. Accuracy: 99.99% (0201);
2. Compatible minimum device type:01005 (unit: inch);
3. The highest pointing speed: about 6-10 seconds/4 plate
4. Calculated based on the minimum size of 01005 (unit: inch) 20,000 points;
5. 7" tray four trays at the same time feeding speed: about 8 seconds;
6. Time including loading and unloading: about 11 seconds;
7. Support multiple sizes of material inventory (7"~15");
8. With X-Ray PCB detection function and X-Ray other assembly product detection function;
9. Support automatic data upload to the cloud and synchronization, update the database every month, the longer the time, the more accurate;
10. One-button operation, Intuitive and easy-to-use GUI;
11. Minimize investment cost (super normal introduction cost);
12. High safety, with EU CE Certificate, International Quality Management System ISO, and AERB Certificate for X-ray.
❙ TOP Advantage of Component Reel Counter
1. Simple: combined with advanced international concepts, easy to understand, easy to learn, easy to maintain;
2. Save time: warehouse management is more efficient, can save 10-20 times the time cost;
3. Hedging: Import hardware configuration, low failure rate in production, more than a decade service life;
4. Safety: Based on the general rules of international design, the highest security level;
5. Stable: mature software, hardware and top production processes ensures stability of each equipment.
Reel Type Image

X-Ray Reel Component Counting Image

Check platform and AI algorithm

Component Counting System:
Apply the AI-optimized counting algorithm to realize spot inspection of various materials: standard SMD, dicing tape, JEDEC/Matrix tray, MELF, Aluminum Caps, Soic, To, BGA/CPU, Tantal, filter and other parts. Four material pallets can be counted at the same time, and it only takes 8 seconds to complete, which shortens the counting time of parts pallets, automatically uploads data to the cloud, regularly updates the database, and links with the factory ERP/MES system, greatly saving time and cost. Easy to manage.
| | |
| --- | --- |
| Model | XC-3200 |
| Tube Type | Closed Tube |
| Spatial Resolution | 30μm |
| Tube Voltage | 50kv |
| Tube Current | 1000μA |
| Image Capture Method | Flat panel digital imaging |
| Imaging Accuracy | 139μm |
| Image Size | 430*430mm |
| Resolution | 3072*3072px |
| Pixel Accuracy | ≤2μm |
| Imaging Speed | 5 EDS/s |
| Reading Pixels | 20 million/inch |
| False Positive Rate (0201) | ≤0.01% |
| Accuracy | 99.99% (0201) |
| Power | AC110-220V, 50-60HZ, 1200W |
| Dimension (with printer) | 950*1460*1960mm |
| Weight | 450kg |
* I.C.T keeps working on quality and performance,specifications and appearance may be updated without particular notice.
Successful Experience:
I.C.T's Customer In 75 Countries Around the World
1. We Have Been Helping Customers To Build a Lot of New Factories Around the World.
2. Training More Than 790 Experts and Technician for Customers.
3. Became the Most Reliable Chinese Partner for You.
For SMT Factory Setup, We Can Do for You:
1. We Provide Full SMT Solution for You
2. We Provide Core Technology With Our Equipments
3. We Provide The Most Professional Tech Service
4. We Have Wealthy Experience on SMT Factory Setup
5. We Can Solve Any Question About SMT
❙ I.C.T Exhibition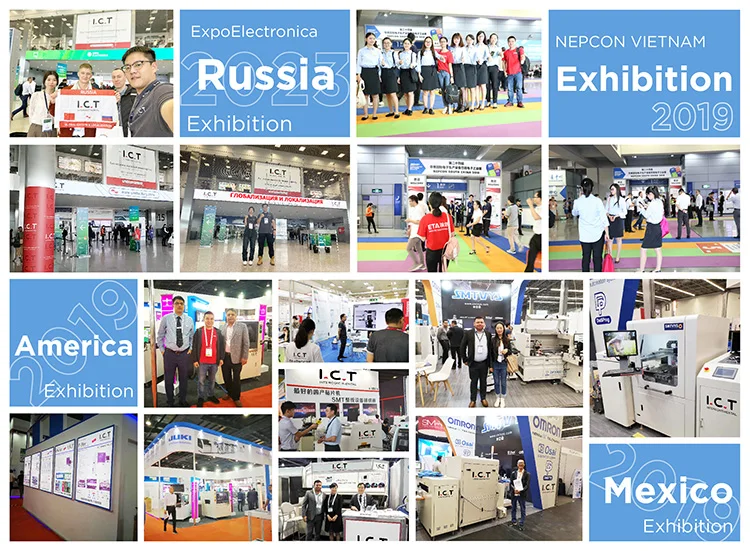 ❙ I.C.T Global Service