Content
I.C.T Online Selective Wave Soldering Machine for PCB
Selective wave soldering is a special form of wave soldering invented to meet the development requirements of through-hole components soldering. It is mainly suitable for the soldering of through-hole components in high-end electronic products. For example: military electronic products, automotive electronics, switching power supply products and other industries which require higher soldering reliability.
I.C.T SS540/550 online selective wave soldering is a high performance equipment developed and assembled in China.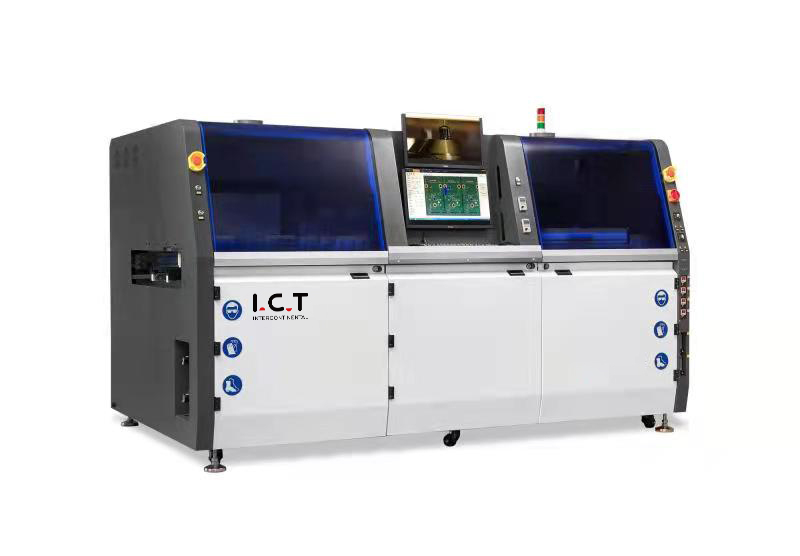 1.PCB plate fixed, spray and soldering platform moving.
2.High soldering quality, greatly improve the pass rate of soldering.
3.Modular design of SMEMA online transportation, support customers for flexible line formation.
4.Full PC control. All parameters can set in PC and saved to PCB menu, like moving path, solder temperature, flux type, solder type ,n2 temperature etc, best trace-ability and easy to get repeat soldering quality.
5.Auto wave height calibration function, to check & calibrate wave's height after every certain pcb, so to keep a very good stability of wave.
6.Can upgraded to be with Mark positioning function, to check PCB`s mark point after every certain pcb.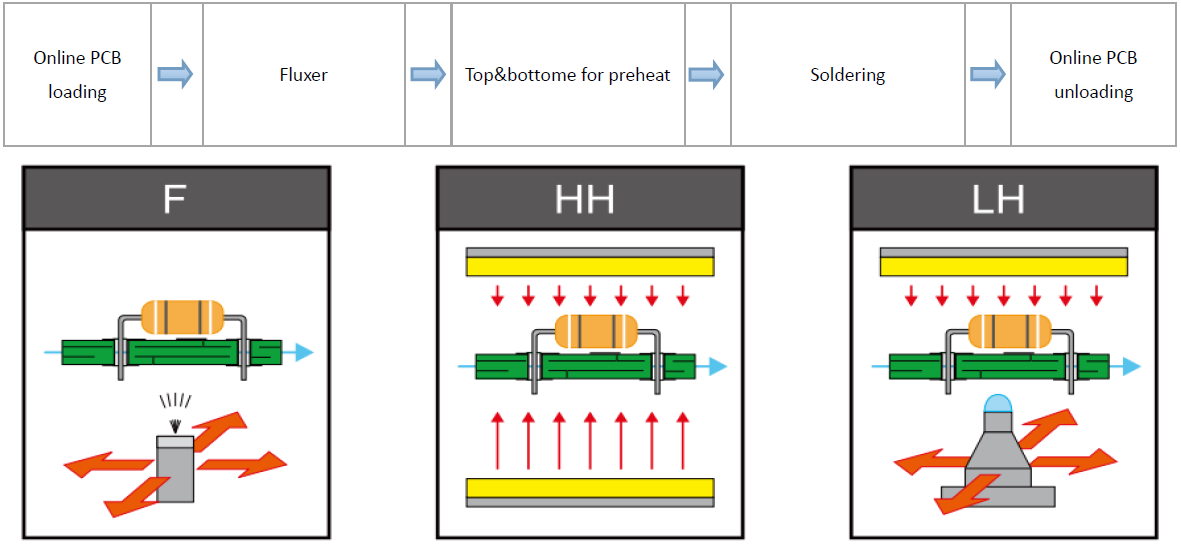 Flux Spraying + Preheating + Soldering

Flux system
1.Standard with imported jet valve to get precious fluxing result with small flux dot, please note flux solid content should be less than 10%.
2.Flux is stocked by pressure tank, make sure pressure stable without influenced of amount of flux. The nozzle jam detection function is optional.
3.The XY spray platform is composed of high-precision ball screw and linear slide rail. It is driven by a high-speed servo motor.
4.The nozzle is mounted on the XY platform,The accuracy of repetition and positioning can reach 0.05mm.

Preheat system
Bottom preheating is standard equipped in machine, Position is adjustable.IR heater of Top,Efficient and stable IR heat conduction.Design structure for maximizing preheating area.All round high temperature cotton design to ensure temperature stability.Heat-generating and heat-conducting parts and motors adopt top brands.Maintenance plug-in design. tool-free maintenance mode.
Soldering system
1.XYZ platform is composed of high precision ball screw and high-speed motor.
2.Electromagnetic pump coil adopts German imported brand to ensure the stability and reliability of the peak.
3.Solder temperature, N2 temperature, wave height, wave calibration etc all able to set in software.
4.Solder pot is made of Ti, not leakage. With cast iron heater outside, robust & quick heat up.
5.N2 online heating system, to wet the soldering perfectly and reduce the solder dross.
6.Standard with the nozzle automatic cleaning function. How many panels can be set to clean the nozzle.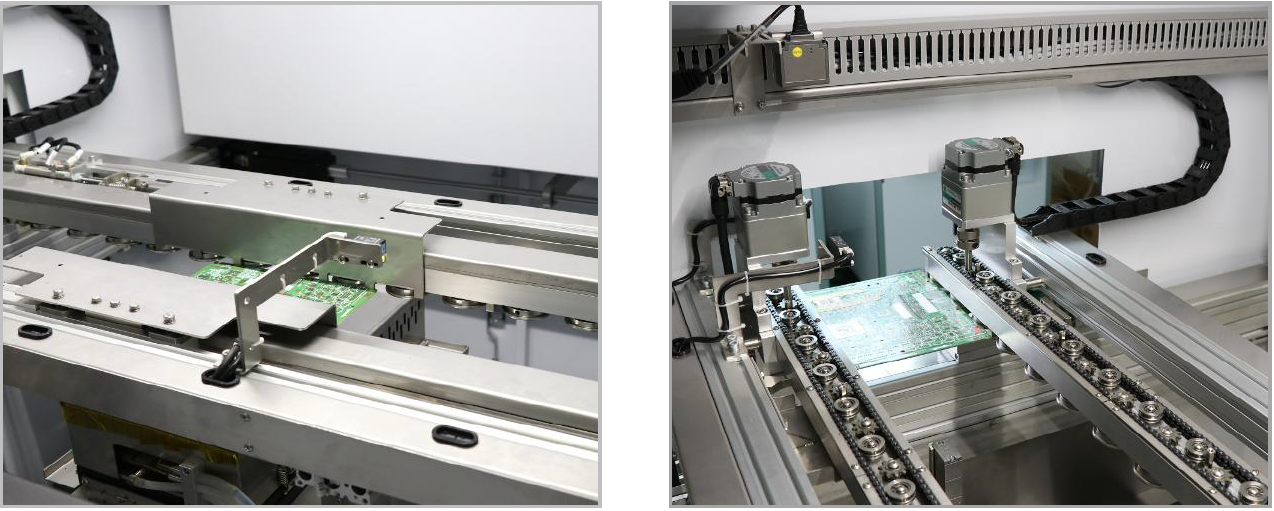 Transmission system
The transmission module is composed of three parts by roller.
The spray and soldering transmission tracks are equipped with a stop plate positioning device to ensure the accuracy.
The distance of weldable elements on PCB plate edge is much higher than that of chain conveyor structure.
On-line Selective Wave Soldering Machine

Model

I.C.T SS540

I.C.T SS550

Flux Storage Tank

1 L

3 L

Max PCB Size

500*400mm

500*500mm

PCB Top Clearance

100mm

PCB Weight

<8Kg

<10Kg

N2

Purity of N2: 99.998%, 0.3~0.4 MPa,25 L/min,Outer diameter Φ6mm

Dimension

L1520*W1650*H1650mm

L2860*W1650*H1650mm

Weight

Approx:1200kg

Approx:1600kg

Off-line Selective Wave Soldering Machine

Model

I.C.T SS330

I.C.T SS430

Flux Storage Tank

1 L

Max PCB Size

350*300mm

400*300mm

PCB Top Clearance

100mm

50mm

PCB Weight

<5Kg

N2

Purity of N2: 99.998%, 0.3~0.4 MPa,25 L/min,Outer diameter Φ6mm

Dimension

L830*W1350*H1430mm

L1280*W1400*H1650mm

Weight

Approx:380kg

Approx:420kg
Q: What we can do for you?
A: Total SMT Machines and Solution, professional Technical Support and Service.
Q:Are you a trade company or a manufacturer?
A: OEM & ODM service are available.
Q: What is your delivery date?
A: The delivery date is about 35 days after receipt of payment.
Q: What is your payment terms?
A: 30% deposit in advance and 70% balance before shipment.
Q: What your main customers?
A: Huawei,Foxconn,Vtech,Sumida,Kemet,Vishay,Bosch,Canon.
A: Leading SMT Supplier in China; Trade assurance to USD 560,000+; Professional after-sales service team.