How to Reduce Labor in Semi-automatic SMT Line
From: Author:SMT Line Publish time:2020-12-18 21:26 Clicks:0
How to Reduce Labor in Semi-automatic SMT Line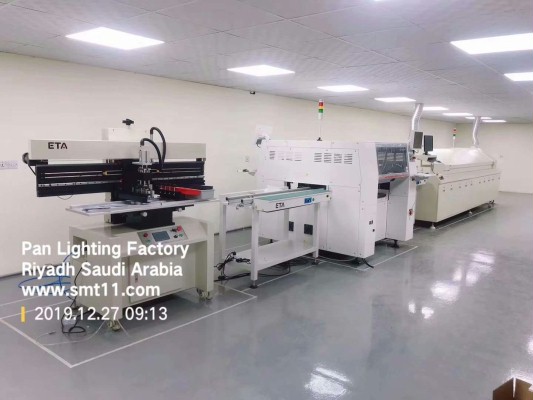 Last month my Egypt customer ask us a question, how to reduce labor in their semi-automatic SMT line that was bought two years ago. They want to this production line just one people work here and don't increase more cost.
Their SMT production line is used for producing LED bulb, and we made a sample solution to them because their budget is limited. This's SMT line production capacity is approx. 800-1000 pcs/hour.
This SMT line inculde: ETA Semi-Auto Stencil Printer, Hanwha(Original Samsung) Pick and Place Machine, ETA Reflow Oven, two set conveyor.
I discuss with our engineer, on the premise of not changing to a fully automatic printer, he only needs to add an loader and unloader. Put the loader before the pick and place machine, and put the unloader behind the reflow oven. So that one person will operat this SMT line enough.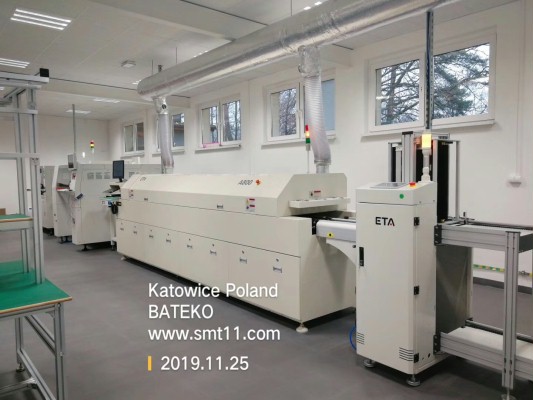 Due to this customer have 2 years operation experience, each machine can be control easily. So one operator will print solder paste on the printer 50% of his time, and put PCB into the magazine. As long as he puts the filled magazine into the loader, he has other time to do other things, such as change the materials in the pick and place machine, or pick up the filled magazine from the unloader.
In this way, they save 2-3 labor costs, and the cost of loading and unloading the board is about 2 months of staff salary.
For the customer, this approach does not replace the semi-automatic printing machine with the full-automatic printing machine, which can meet the customer's requirements for reducing labor.
If you have other ideas, you can also contact us, and we will provide you with reasonable suggestions.