ETA PCBA Coating Line Solution
From: Author:PCBA Coating Line Publish time:2020-11-07 17:05 Clicks:0
ETA PCBA Coating Line Solution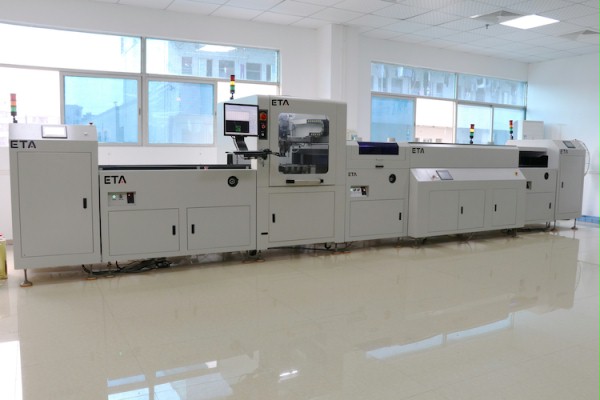 Coating machine is an automated mechanical equipment that specifically controls fluid and coats the surface of the product. In other words, a special glue is applied in advance to the position on the PCB where the patch is needed, and it passes through the oven after curing. Coating is carried out automatically according to the program. The coating machine mainly uses the three anti-paints and UV glues in the product process. Coating machine is the main machine of this coating line.
According to different production requirement, we have different solutions:
SMT Loader+Conveyor without cover+Coating Machine+Sealed Conveyor+UV/IR Oven+SMT Conveyor+SMT Unloader
SMT Elevator+Conveyor without cover+Coating Machine+Sealed Conveyor+UV/IR Oven+Semi-sealed Conveyor+SMT Elevator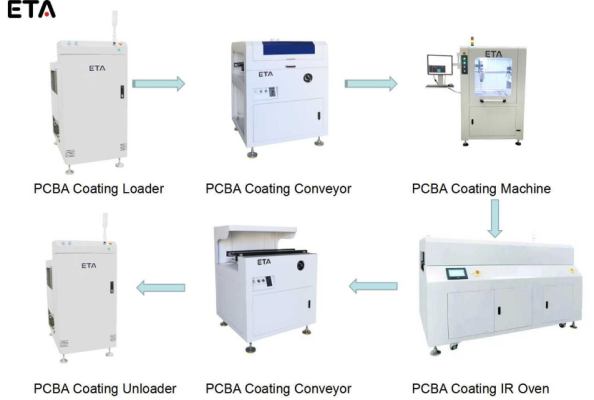 All solutions can make adjustment according to customer's actual situation and requirement.
ETA Technology is one SMT full line solution design and manufacturing provider. At present, we have many mature customers at home and abroad which are using our coating line machines, and gave good feedback on production effect.
Anyway we can provide suitable solution according to customer's requirement and specific situation, if there is something not suitable, our engineer team will give suggestion or make some adjustment for the solution, try to meet all customer's requirement.
❙ PCBA Coating Line Video