SMT Assembly Line - PCBA Process
From: Author:SMT Assembly Line Publish time:2020-01-09 17:59 Clicks:0
SMT Assembly Line - PCBA Process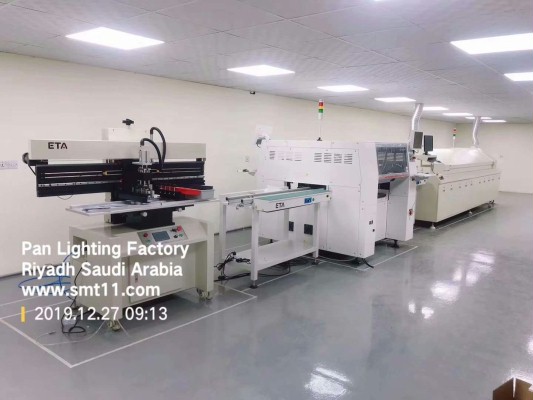 In the S

MT line

,

SMT assembly line

,

SMD line

, SMT production line, according to the requirements of different production technologies, it can be divided into single-sided SMT mounting process, single-sided DIP insertion process, single-sided mixed process, single-sided mounted and inserted mixed process, double-sided SMT mounted process and double-sided mixed process. Loading process and so on.
The PCBA process involves carrier board, printing, patch, reflow oven, insertion, wave soldering machine, testing and quality inspection. Different types of PCB boards have many different processes. The differences are explained in detail in the following.
1.Single-sided pick and place
2.Single-sided DIP insertion
The PCB board that needs to be inserted is wave soldering machine by the production line workers after inserting the electronic components. After the welding is fixed, the feet can be washed and washed.
3.Single side mixed loading
PCB board is solder paste printed, electronic components are mounted after reflow oven, DIP is inserted after quality inspection is completed, and then wave soldering or manual soldering is used. If there are fewer through-hole components, manual soldering is recommended .
4.Single-sided placement and cartridge mixing
Some PCB boards are double-sided, with one side mounted and the other side inserted. The process of placement and insertion is the same as single-sided processing, but reflow oven and wave soldering machine require fixtures.
5.Double-sided pick and place machine
In order to ensure the beauty and functionality of PCB boards, some PCB board design engineers will use double-sided mounting. Among them, IC components are arranged on the A side, and chip components are mounted on the B side. Make full use of PCB board space to minimize PCB board area.
The following two methods are mixed on both sides. The first method is to assemble the PCBA three times for heating, which has low efficiency, and it is not recommended to use the red glue process for wave soldering. The second method is applicable to the case where there are many double-sided SMD components and few THT components. Manual soldering is recommended. If there are many THT components, wave soldering is recommended.
❙
SMT Assembly Line Video